Why choose a certified translator?
Authorised, sworn or certified – the terminology covers the same high standard. Choosing a certified translation by a State-authorised translator is your guarantee of an accurate translation of the source text. Translations done by a certified translator are officially approved by the public organs of the translator's country. They are officially certified, which is why they are stamped and signed by the translator.
Choosing a certified translation can be a good solution for the translation of contracts, wills or technically complicated documentation where it is very important, that no misunderstanding occurs as a result of the translation of the original text. Opting for a certified translation with a state-authorised translator is your guarantee that the translation is a true and exact reproduction of the source text. The translator gives you his/her signature that this is the case.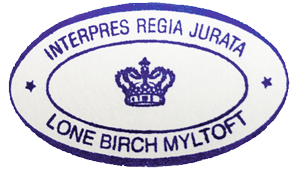 Private individuals:
In connection with translations for use in trials in another country or in connection with contracting matrimony or moving abroad or in other circumstances where documentation of identity, marital status or other such things are needed, in many cases it is required that the translation of e.g. certificates of baptism, certificates of matrimony or exam certificates should be performed by a certified translator. These formalities should always be complied with, and it can be an expensive solution.
Competitive prices
At ConfianZa Translation we offer competitive prices and we have a great sense of responsibility for the work we do for our clients. Please contact us to receive a quote for your translation job. We can guide you in connection with the handling of the documents in these cases. We will be happy to assist you all the way through the process and help you with the following legalisation process, if you require us to do so.
Business-to-business:
When producing e.g. technically or legally complicated documentation or sending out material to clients and commercial partners, it is important to make a professional and serious impression – and this leaves no room for mistakes. If you need a translation of legal documents, you are guaranteed the best product when you opt for a certified translator.
Product responsibility insurance
At ConfianZa Translation, we have an obligatory product responsibility insurance, and we have several years experience translating legal documents, in order to ensure that you receive a product you can trust.
ConfianZa Translation is a member of the Association of Danish Authorized Translators
ConfianZa Translation is a member of the Association of Danish Authorized Translators and Interpreters (Translatørforeningen – also known as ADATI).
We offer certified translations in the language combinations from Danish into English, Spanish, Italian, French and German.